Screening of Japanese Short Films by Mr. Seigo Tono, Festival Director, Short Shorts Film Festival & Asia
Date – 1st March, 2017 (Wednesday)
Time – 18:30
Venue – The Japan Foundation, New Delhi
SCREENING OF SHORT FILMS
Film Schedule –
1. Can & Sulochan (14 mins and 02 sec)
Director – Mitsuyo Miyazaki
Synopsis – Sulochan has moved to Japan and is having trouble getting used to life there. Feeling lonelier and lonelier, one day meets "Can", a talking vending machine and life starts to change.
2. Color of Life (13 mins and 51 sec)
Director – Goro Ujishima
Synopsis – The Shimuras, mother Fukumi and daughter Yoko, devote their daily lives in a lifelong pursuit to understanding and preserving the national treasure that is Japanese Textiles.
3. Pieces of the Future (15 mins)
Director – Seiki Watanabe
Synopsis – Working on a building of a new house, apprentice carpenter Souta is asked by his boss, Oikawa, to build a shed by himself. It is linked to his overwhelming feelings towards people who have shared the same feeling as him.
4. Half and Half (15 mins)
Director- Takumi Saitoh
Synopsis- Revolving around desktop doodles, this is a love story between a high school girl and a boy who attends only evening classes. A deep romance that will sway your emotions.
**ENTRY FREE**
Organised by : Embassy of Japan in India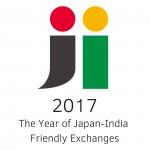 An event of "2017 The Year of Japan – India Friendly Exchanges