Online Swagatam is the program by Japan Foundation New Delhi for School
We are calling applications for our Online Swagatam program for August
☆Our AUGUST's theme is "Season of Japan" 【日本の季節】
In this theme, students will get the chance to learn about the Season of Japan with fun activities. The warmth of summer. The majestic cherry blossoms of spring. The breathtaking autumn leaves. The crisp white winter landscapes. Each of the four seasons of Japan brings a new face to the country, each as beautiful as the next. To compare and find how these seasons are different from India. Apply Now!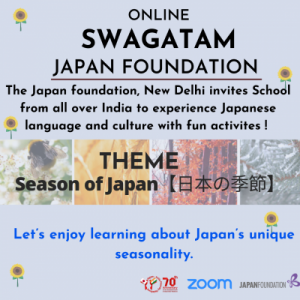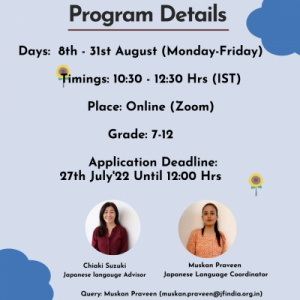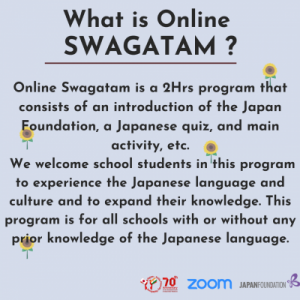 ★PROGRAM DETAILS
·   Days: 8th- 31st AUGUST (Monday to Friday)
·   Timing: 10:30 – 12:30 Hrs (IST)
·   Place: Online (Zoom)
·   Capacity: 10-50 Members
★PARTICIPANTS ELIGIBILITY:
·   Participants must be school students.
·   Grade 7 to 12
·   Participants must have a PC, desktop, or smartphone with an Internet connection.
★HOW TO APPLY
Only School teachers/Event Coordinators can apply to this.
·   Application Deadline: 27th JULY @ 12:00hrs (IST)
·   Application Form: https://forms.gle/8xQV4tzwvLW8esdPA
☆QUERY
Ms. Muskan Praveen

muskan.praveen@jfindia.org.in