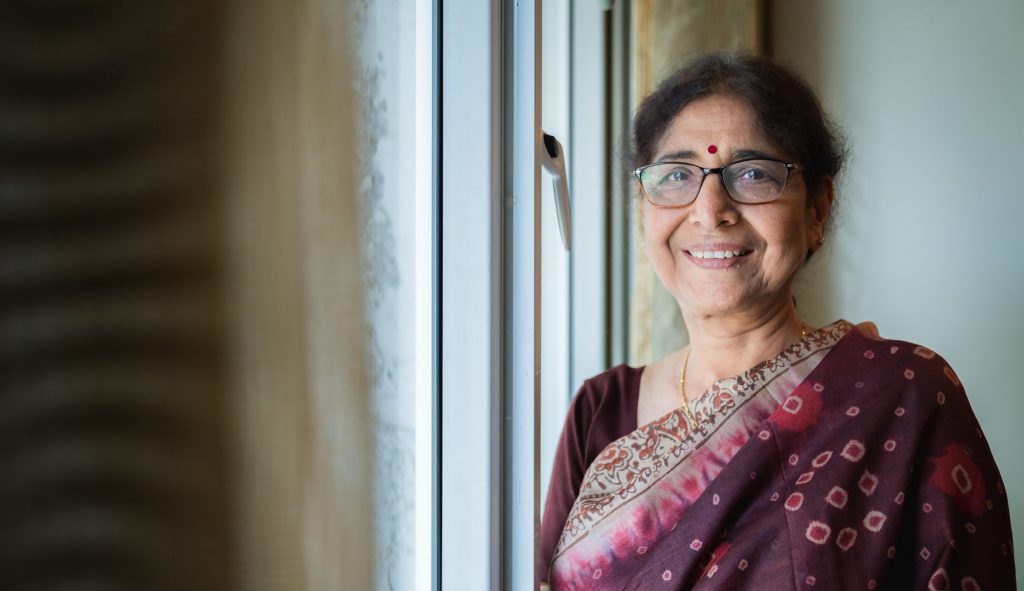 JF Fellowship provides an opportunity to  spend time in Japan,  improve one's language and communication skills, make Japanese friends that are  the best guides to all aspects of Japan.
Former Professor of Japanese, Jawaharlal Nehru University (JNU). She has studied Japanese language at Delhi University and Tokyo University of Foreign Studies.
Dr. Sushama, former Professor of Japanese, Jawaharlal Nehru University (JNU) has obtained Master's degree in Japanese Studies, and PhD degree for her thesis "Structures of Japanese and Hindi – A Contrastive Study" from JNU.
She has been associated with several other universities in Japan and in India as visiting Professor, member of Board of Studies, member of syllabus formulating committees etc.
She has contributed to several research papers and articles in various journals, and chapters in books on Japanese and Hindi linguistics in addition to Japanese to Hindi translations of literary texts.  She has to her credit two published books "Structures of Japanese and Hindi" and edited book "Japan, the living culture". She has also Co-authored Japanese Language Textbooks UME, MOMO and SAKURA for the students of Central Board of Secondary Education of India. In addition, she has undertaken two commissioned reports: "India and Asia in 2010s: Perspective from India" for Nomura Research Institute Ltd., and Hindi section of "International Dictionary of Long-Term Care Insurance Terms", (Ed. Sumii, H. and Sawada, Y, and funded by Japan Society for the Promotion of Science).
Prof. Jain has been three times recipient of Japan Foundation fellowships. In 1992, she received Professional Fellowship; followed by in 1996, Educational Fellowship, and lastly in 2005, Invitational Fellowship. She has also been the Chairperson of the Centre for Japanese Studies, JNU; President of Japanese Language Teachers' Association of India, and member of some other Japan-related academic societies/organizations. 
Fond of experiencing different cultures, she has been to UK, Italy, Germany, France, Former Yugoslavia, Mexico, USA, Canada, China, Singapore, Thailand, Indonesia, Bangladesh and Nepal.
When asked what she thinks is the importance of JF Fellowship, she said that as a fellow, the scholarship enabled her to access data related to her research and, more importantly, by directly interacting with experts in the field, gain insights into the topic of her research that otherwise were not available.  She also learnt a lot by sharing experiences of teaching with counterparts in Japan.  
She further adds that the fellowship provides an opportunity to spend time in Japan, improve one's language and communication skills, make Japanese friends that are the best guides to all aspects of Japan's living culture and traditions reflected in eating, drinking, customs, festivals, working, etc.  
During the three JF Fellowships, her topic of research was Developing methods of teaching Japanese to Hindi-speaking learners (1992), Publication of my Ph.D. thesis (1996), Comparison of the concept of rebirth in Mishima's "Sea of Fertility" (Hojo no Umi) and Indian beliefs (2005). 
Talking about impact of the scholarship on her research and trajectory in present, she said that it provided her with direct interaction and discussions with Japanese language experts and Japanese teachers of Hindi. Besides collecting material, it also improved her understanding of structures of the two languages. It also assisted in identifying problems of teaching Japanese to Hindi-speaking learners. She continues with how it incorporated her research findings in publishing books and other publications, and in her teaching, especially in teaching Japanese grammar. "I am told by my former students, now university faculty members, that they follow my way of teaching grammar. My research in Japan has contributed to my career advancement." 
Sharing some memories from the scholarship days, she shared that living in a clean and safe country amidst polite, friendly and aesthetically refined people, and travelling through enchanting landscapes of Japan has, in itself, been a rewarding, enjoyable and memorable experience for her.
Talking about suggestions for future fellows, she gave some insightful tips to all. Dr. Jain said that besides focusing on their research, it is important for fellows to be observant of the behaviour of Japanese people which values and focuses on social harmony. This behaviour can be seen in their social conduct such as consideration for others, minimalization of self, their politeness, expressing gratitude even for small favours, their stoicism.
In addition, it is suggested that fellows socialise with Japanese friends over Japanese cuisine and sake while absorbing their manners and etiquette. It is important as what is considered appropriate in our culture can be inappropriate in theirs'.