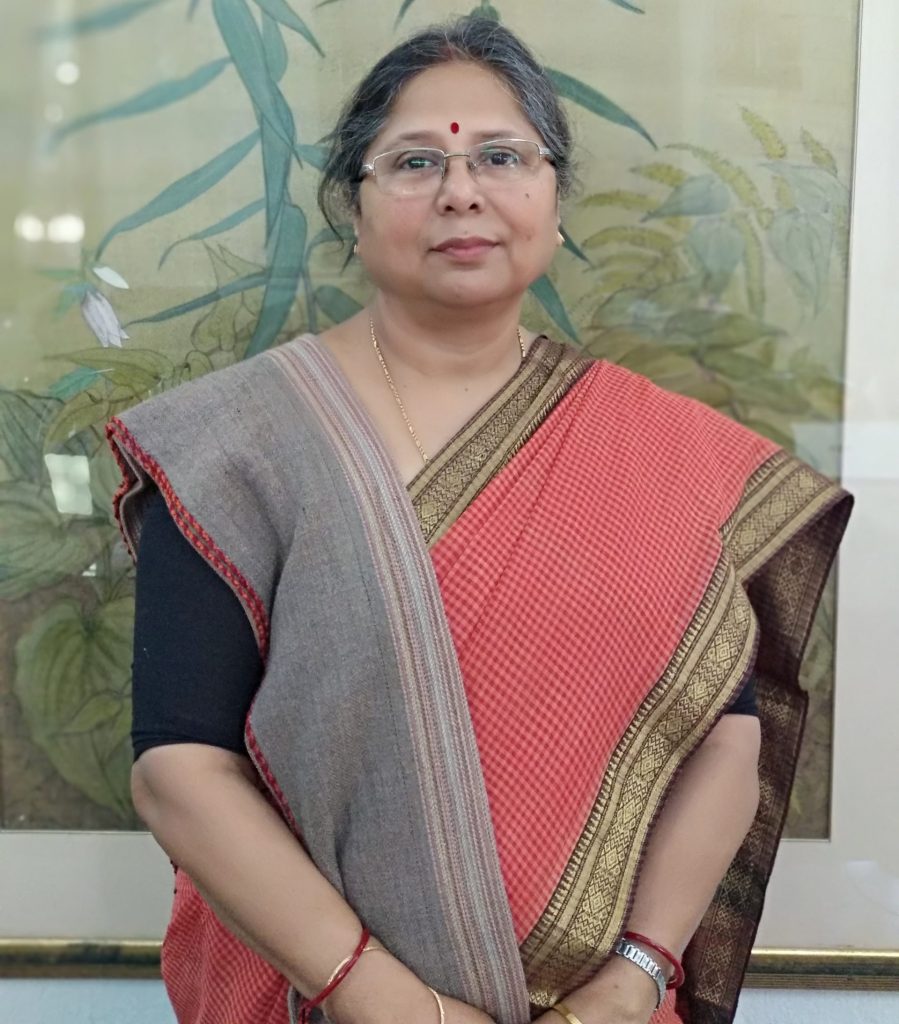 Japan Foundation fellowship facilitated me to conduct interviews, carry out questionnaire surveys and have interactive sessions with the participants, which was a major part of my research.
Professor of Japanese and the current Head of the Department of Japanese at Visva Bharati University, Santiniketan.
Prof. Gita A Keeni  holds a dual Master's in Philosophy (University of Calcutta) and in History with a dissertation on 'Concept of Karma and Rebirth in Japan as Elicited in the Nihon Ryōiki' (Tokyo Joshi Daigaku). She was awarded her PhD under the Women's Studies Research Centre, University of Calcutta. A major part of the research work was conducted at the International Research Center for Japanese Studies (Nichibunken), Kyoto, under the Japan Foundation Doctoral Fellowship. Her publications include works on Japanese Language, Literature, Socio-Cultural Studies, Paremiology, and Tagore & Japan, in Japanese, English and Bengali.
Dr. Gita received JF Fellowship in 2011-2012. She believes that this scholarship is very important to a fellow. According to her, in the age of digitalization, one has easy access to most of the literature. However, in case of research in the field of humanities and social sciences, it is imperative to have direct access to the people who are being focused upon in the research study. Being able to interact face to face and conduct interviews or gather information for questionnaires and surveys helps the researcher to build a bond with the participants and get a better understanding of their culture and functioning which may not be possible to obtain from a questionnaire alone. The Japan Foundation Scholarship helps the fellow immensely to achieve this goal and bring about a good result.
Her topic of research during the fellowship was, "A comparative study of women in Japan and Bengal through the prism of proverbs." She says that during the fellowship programme, she was affiliated to Nichibunken – The International Center for Japanese Studies, under Professor Shigemi Inaga. She considers   herself to be fortunate for her affiliation to Nichibunken as she got the opportunity to interact with scholars from various disciplines as well as different countries. Discussions, making presentations on her work, and receiving contrastive suggestions helped her immensely in her research work. Japan Foundation fellowship facilitated her to conduct interviews, carryout questionnaire surveys and have interactive sessions with the participants, which was a major part of her research.
On being asked how the fellowship helped her achieve her current status in life and career, she responds with how her stay at Nichibunken, Kyoto, Japan, was fruitful as it enabled her to successfully submit her doctoral dissertation and acquire the degree. She was appointed as the Head of the Department of Japanese and is continuing with the responsibility till date. Her research experience and exposure to various kyoudo kenkyuu/ joint research projects at Nichibunken has helped her in turn to become a well-informed guide and supervisor to the PhD scholars/Doctoral students of her department. "All this became possible due to the Japan Foundation Fellowship programme."
We also asked her to share some memories from her fellowship days. She reminisced about how The Japan Foundation Office in Kyoto organized programmes to acquaint the fellows with various aspects of Japanese culture. "These programmes were indeed a good opportunity to take a deep dive and embrace the culture of Japan." It also provided a platform to interact with scholars of different parts of the globe. "My most memorable experience was the visit to the Advanced Telerobotic Research Laboratory (ATR) at Keihanna Kansai Science City."
Finally, she had a few suggestions for all the future fellows. She said that any research on socio-cultural aspects or socio-historical aspects, requires first-hand experience of that society. Depending on the nature of research, while majority of the work requires one to delve into literary findings of the past, the most significant part comprises of field work as it provides the opportunity to interact with the subjects of the study. Since the duration of fellowship is fixed and limited, in order to carry out the fieldwork successfully, one needs have a clear frame of mind about the research plan, and special attention needs to be given to actionable items that need to be achieved during his/her stay in Japan.
Apart from this, it would be fruitful to make presentations of the research findings based on the fieldwork in different academic forums to receive feedback that the work is moving in the desired direction. Views from academicians of both the societies will enrich the outcome of the research.
Furthermore, her advice to the young scholars of Japanese Studies would be to "form peer groups that comprise of scholars from different cultures and to take up joint research on different aspects of Japan". "I can vouch for this as my experience at Nichibunken, under the Japan Foundation Fellowship, taught me how observing things from a different perspective leads to fruitful findings."