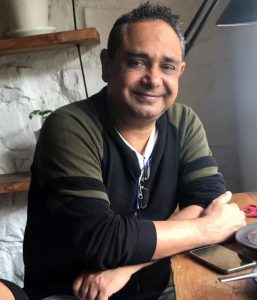 JF Fellowship is a once in a lifetime opportunity for one to realise the best in themselves and enhance their inner capabilities.
A New Delhi based photographer, a curator with VASA Project, a global online new media center and Galeria Quarentena, Chile.
Sandeep Biswas, a New Delhi based photographer has exhibited in 8 solo and over 60 group exhibitions including art and photography festivals within India and internationally. He has received quite a few awards along with fellowships, like, Japan Foundation Fellowship, India Habitat Center Fellowship for photography and Senior artist fellowship by Ministry of Culture in India.
He has been on the Jury to select state awards for photography for Jammu & Kashmir Academy of Art, Culture and Literature and has been an examiner with Pearl Academy and School of Planning and Architecture, New Delhi. He is a practicing commercial, social documentary and art photographer who also teaches as a guest faculty and conducts workshops in India and abroad. He has worked on a few coffee table books including "India's Story of Triumph over Polio", published by UNICEF, Jal Jungle Jameen Authored by Dr Alka Pande and published by Must Art and Fairs and festivals of Rajasthan-A Visual Documentary published by Sheevam Group. Sandeep is a curator with VASA Project, a global online new media center and Galeria Quarentena, Chile.
Mr. Sandeep received the Japan Foundation Fellowship in 2001 from 15 September 2001 to 14 March 2002. He believes that this fellowship is very important as it provides a once in a lifetime opportunity to realise the best in oneself and enhance their inner capability in their respective field, without the worry of funds and time, allowing one's research the undivided focus. His topic of research during the fellowship was, "Photography: Shintoism and Japan in the present time". 
On being asked how this fellowship did impact his research, he says that it opened a new world for him to explore, understand and enhance his creative and visual sensibility. It helped carve his path to give him the desired direction as a creative photographer. He further adds on how it helped him shape his career trajectory. He says that post his fellowship period and after returning to India, he found immense clarity in the direction of his work and process as a creative photographer. How it helped him rediscover himself and recognise his visual language. Moreover, ever since he has returned, he has received more awards and fellowships. He shares, " I have had many more opportunities in the international and domestic arena. This has helped me to stay focussed, motivated, and move forward to evolve and establish myself to who I wanted to become as a creative and visual artist." 
When asked to share some memories from his fellowship days, he reminisces that the six months he spent in Japan with support from the fellowship has engraved many wonderful and unforgettable memories for him. "Most memories still remain a fresh and a happy recollection of the time spent. Apart from the wonderful experience of educating myself better and using the state-of-the-art facilities at the Kyoto University of Art & design as a professional and a researcher, I was overwhelmed by the love and warmth of the Japanese communities, the finest Japanese gourmet experience and the richness of a deep-rooted culture, which will always remain special forever."
For future fellows, he suggests that they must utilise the fellowship/scholarship to the best of their abilities. It is the most enlightening experience and will benefit you for the rest of your life. Also, you should open yourself to the people, culture and food in Japan. He says that it is the best process of enlightening oneself and an experience of a lifetime.