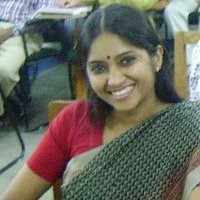 JF Fellowship provides a good chance for scholars to

visit libraries and get input from teachers in Japan.
Assistant Professor of Japanese Language at Centre for Japanese Studies, Jawaharlal Nehru University (JNU), New Delhi.
Dr. Janashruti Chandra, has been an Assistant Professor in JNU since 2002. Before that she was a MEXT scholar and recipient of Osaka Prefectural Scholarship and has spent considerable time in Japan as a student at Kyoto University of Education and Osaka University of Foreign Studies.
Her research interests lie in the fields of Linguistics, Teaching Methodology, Translation Studies, Japanese Culture Studies and Children's Literature. She was engaged in drafting of school textbooks of Japanese language in collaboration with Japan Foundation and is at present designing the Certificate Course program in the online mode for JNU.
She has been a Visiting Research scholar to Osaka University under the Japan Foundation Fellow Program and has to her credit several research papers presented in both National and International forums. She has held the post of Secretary, Japanese Language Association of India (JALTAI) and at present serving as Treasurer. She has been actively promoting Japanese Language and Culture in India. 
Dr. Chandra was recipient of Japan Foundation fellowship in the year 2008-09. She believes that the scholarship is important for a fellow as it allows them to visit libraries and get input from teachers in Japan. Her topic of research during the fellowship was, "Ambiguity in Politeness- Compliment responses in Japan and India."
When asked how the fellowship impacted her research back then, she said that it helped facilitate her stay in Japan and it was very comfortable. She also got the opportunity to travel to Hiroshima, Tokyo, Tsukuba etc. She says that the scholarship did help her shape her current trajectory in life as it immensely helped her complete her doctoral research. 
We also asked her to share some memories from her scholarship period in Japan to which she responds that during that particular stay, she visited Kyushu for the first time which still remains as a cherished memory for her.
Lastly, she suggested that all the future aspiring scholars should try finding forums to present and publish as well while they are in Japan as it will be beneficial not just to their research but also all the other Japanese enthusiasts.