"The Return of K.T.O." by Tsuyoshi Ozawa
talks & screening with live performance 
Date: 21.02.2018, Wednesday
Time: 17:30- (Open17:00-)
Venue: Phoenix, The Astor
15, Shakespeare Sarani, Near Nightingale Hospital, Camac Street Area, Kolkata
http://www.astorkolkata.com/restnbars.php
RSVP:  misako.futsuki-koide@jfindia.org.in
Organized by The Japan Foundation, New Delhi
Supported by The Consulate-General of Japan in Kolkata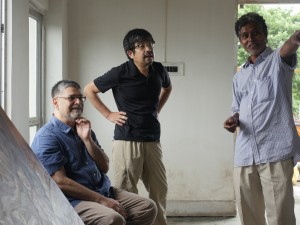 Ozawa Tsuyoshi (1965), professor of Fine Arts at the Tokyo University of the Arts, is one of leading Japanese contemporary artists. Ozawa visited Calcutta in 2017 to work on a proposal he had made to Yokohama Triennale 2017 to engage with the historical figure of Kakuzo (Tenshin) Okakura (1862-1913), an art historian and a leading cultural figure of Japanese Modernization between the late 19th and the early 20th century. As a civil servant, Okakura had visited Calcutta in 1902. Okakura socialized with Bengali intellectuals of the time, including the Tagore family, and his aesthetic view of Asia embracing India consequently influenced on Bengali Modernism.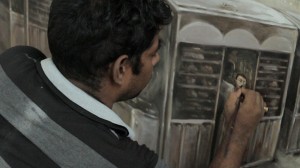 During his visit to Calcutta, Ozawa made a painting and a video installation titled The Return of K.T.O recalling Okakura's time in Calcutta. The completed work was exhibited at the international contemporary art exhibition, Yokohama Triennale 2017 in Japan. The event "The Return of K.T.O." by Tsuyoshi Ozawa: talks & screening with live performance introduces this intercultural art project to the people in Calcutta.
In The Return of K.T.O., Ozawa depicts Okakura's Calcutta visit as a turning point of his life. Ozawa's songs about Okakura re-examine the multiple and complex aspects of this influential figure. The work traces Okakura's footstep at first and then shifts to fictional scenes in the 'what if' mode, imagining a scenario wherein Okakura wakes up in the present day: how would Okakura respond to our world? Interweaving fact and fiction, locations and times, the life of Okakura is integrated into an installation consisting of hand-painted hoardings and contemporary Bengali song and video. Collaborating with various fields of professionals in Calcutta, Ozawa's imaginative Okakura story uniquely explores history and Asia.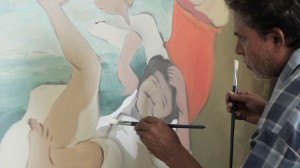 In the event, Ozawa will talk about the work and present a video screening of Return of K.T.O. There will be a discussion moderated by art critic and writer Anirudh Chari, with artist and following project collaborators. Rustom Bharucha, the author of Another Asia: Rabindranath Tagore & Okakura Tenshin contributes an essay on "Spector of Connectivity: Revisiting Okakura" to the brochure of the Return of K.T.O. Suvonil Saha is from an experimental band Behind the Mirror that composed and played Song of K.T.O., and Tomoko Kuroiwa coordinated the production of the Return of K.T.O. in Calcutta.
Following the discussion, A Live performance of Song of K.T.O. by Behind the Mirror will be premiere at the event.
About the event more in detail / イベント詳細
<<Photo credit>>
Tsuyoshi Ozawa
The Return of K.T.O. (production scene)
2017
Photo: Hironori Oooka
courtesy of the artist