★We will now announce the results of the Online Haiku Contest!! ★
Grand Prize 最優秀賞 : M. Girishwaran
Excellence Award 優秀賞: Nandini Arora
Honorable Mention (1) 佳作 : Nishtha Ahuja
Honorable Mention (2) 佳作: Dulanjalee Kaushalya
Honorable Mention (3) 佳作: : Yukta Hathiramani
Most Liked Award いいね賞: Dulanjalee Kaushalya
★★★★★Congratulations Everyone! ★★★★★
All the artworks were carefully assessed by the judges to come up with this result.
The 'Most Liked' Award was assessed on the following guidelines:
Aptness with the theme ('South Asia': My country/ My city)
Is it a Haiku with Photograph / Hai-pho?
Copyright violation or not, etc.
We are very grateful to everyone for the participation and appreciation received by the Haiku Contest.
We look forward to seeing you next year as well! これからもよろしくお願いします!
---
Results of the Online Haiku Contest!! ★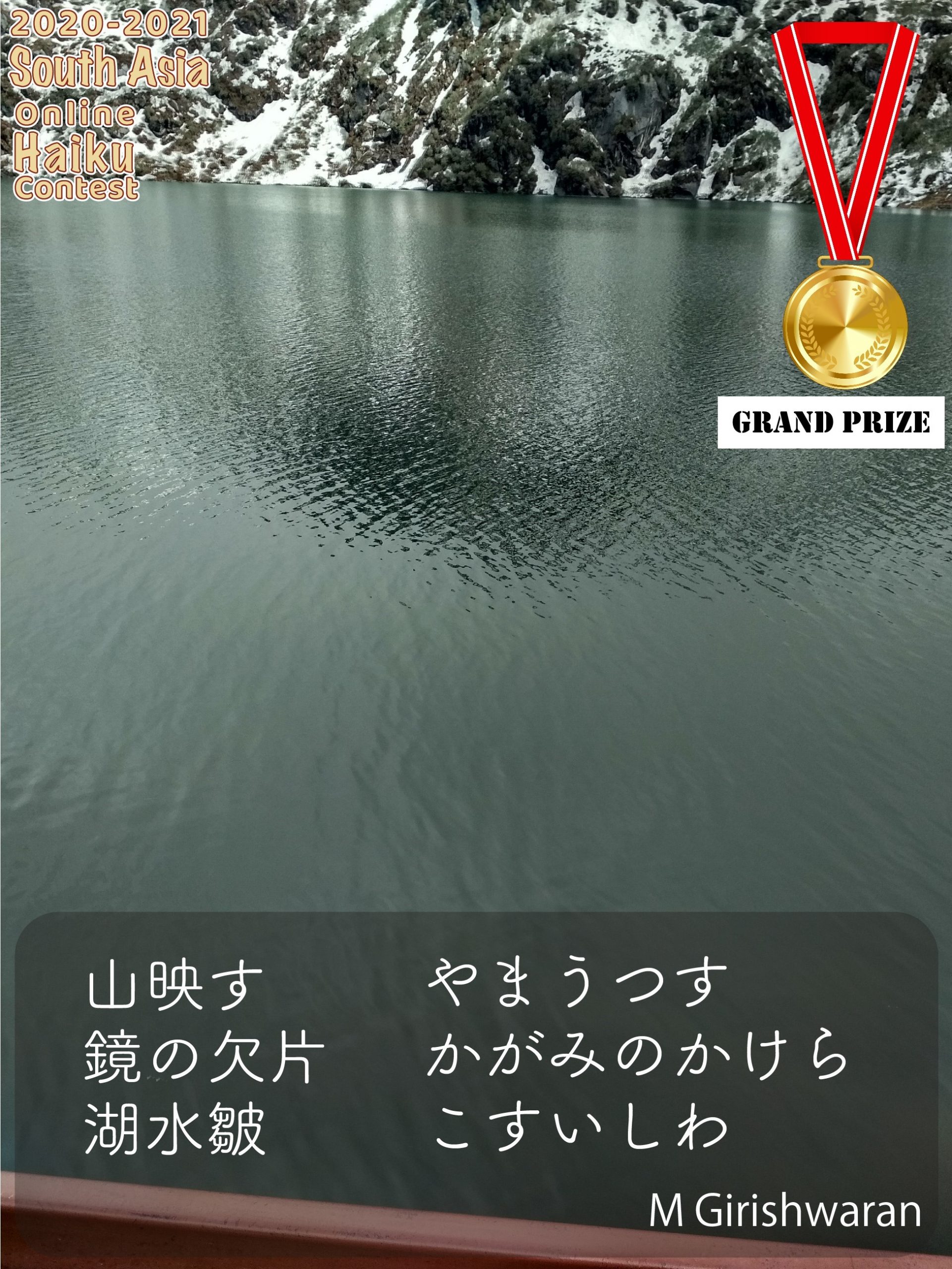 ★ Grand Prize 最優秀賞 : M. Girishwaran
Haiku Description: ローリーというインドの収穫祭では火を焚き、皆でそれを囲みダンスなどをして祝います。よく燃え上がる炎に照らされた皆の幸せな顔が夜の闇を背景に温かく豊かな紅色に見えたという様子を俳句にしました。
Haiku Description: This verse attempts to compare and contrast a broken mirror to the rippled surface of a mountain lake disturbed by wind.
In both cases, the true image is distorted and altered by an external agent, but in nature, once the disturbing force is spent, the image reforms to its original glory. In contrast, the man-made mirror, once broken, can never show the true image again, no matter how well it is repaired. So the two scenes are simultaneously reflections of one another, and at odds.
Ultimately, thus, the true image of the world can only be seen by observing the natural and true world, and not by drowning oneself into man-made traps.
[Photo taken May 2018, of Tsongmo Lake in the mountains of East Sikkim]
---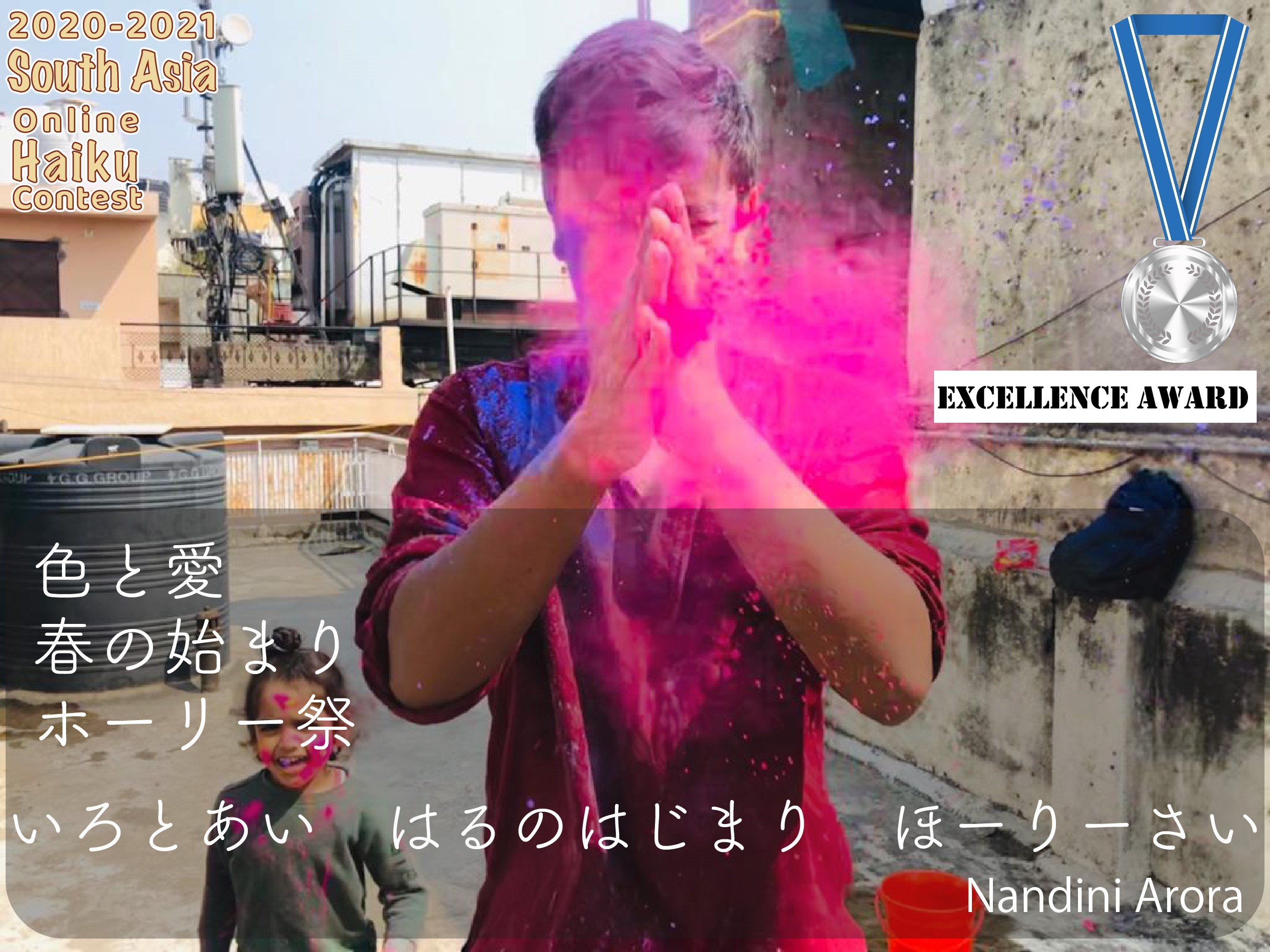 ★ Excellence Award 優秀賞: Nandini Arora
Haiku Description: My haiku describes the festival of Holi, which marks the beginning of spring in India.
---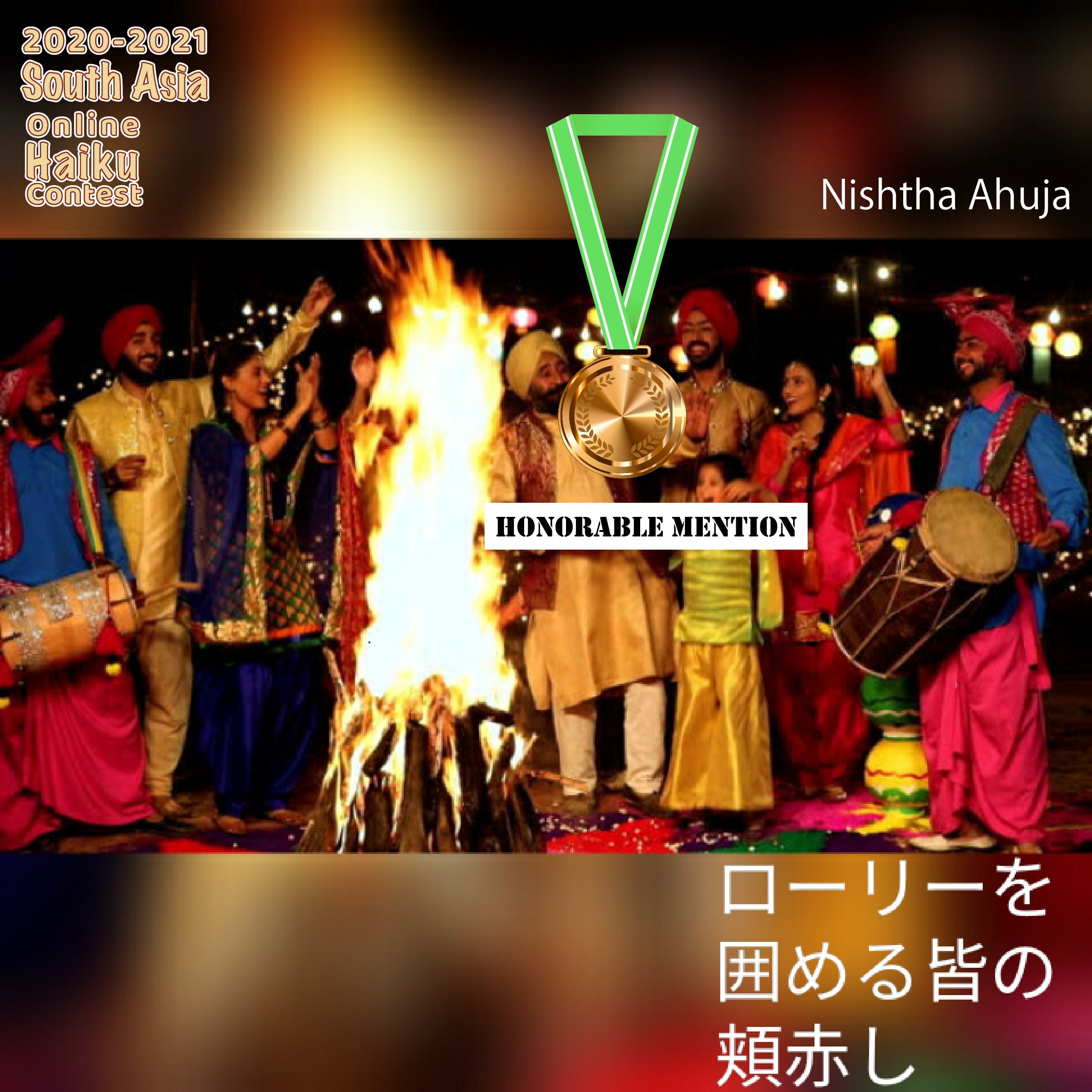 ★Honorable Mention (1) 佳作 : Nishtha Ahuja
Haiku Description: ローリーというインドの収穫祭では火を焚き、皆でそれを囲みダンスなどをして祝います。よく燃え上がる炎に照らされた皆の幸せな顔が夜の闇を背景に温かく豊かな紅色に見えたという様子を俳句にしました。
---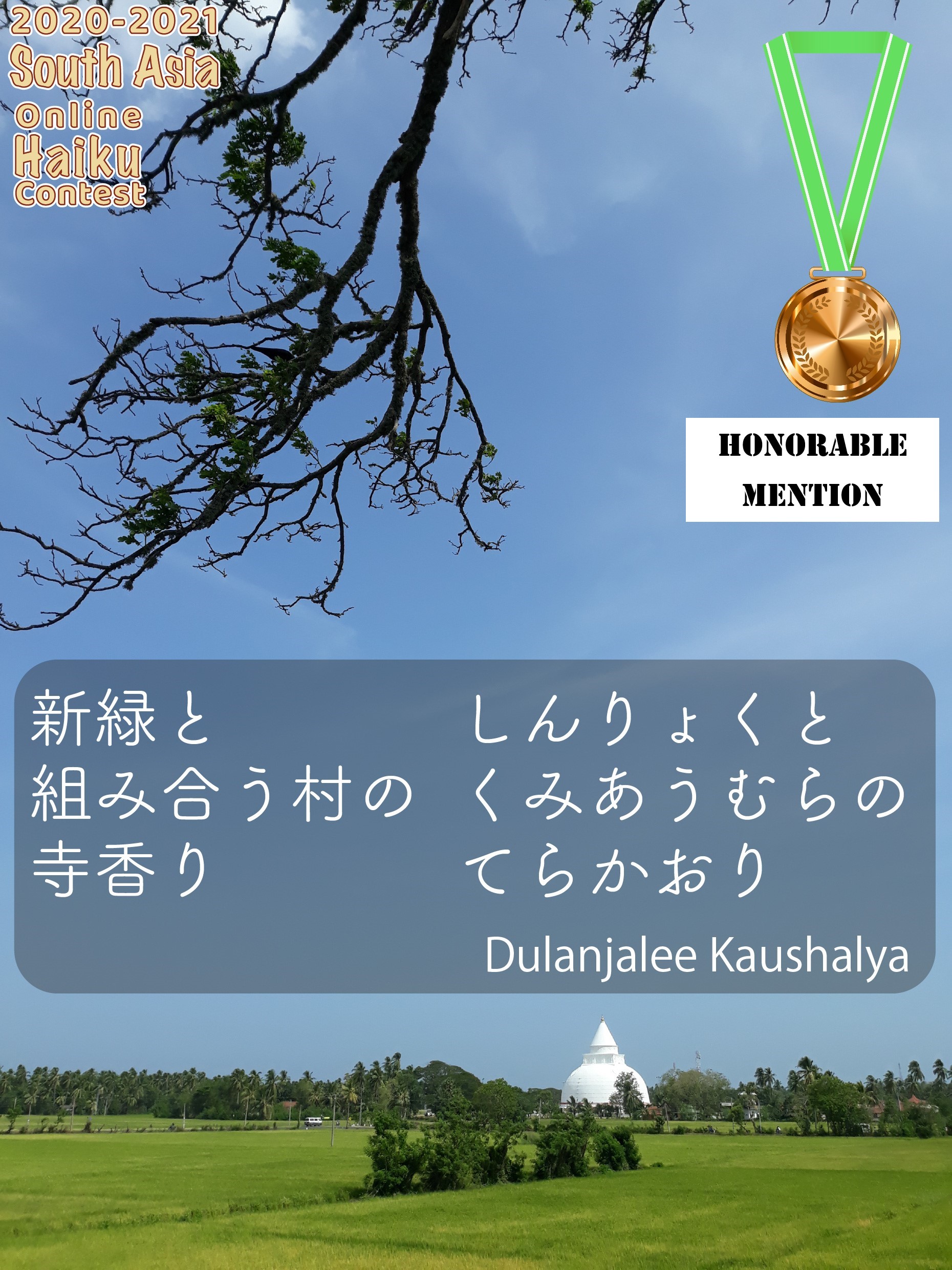 ★ Honorable Mention (2) 佳作: Dulanjalee Kaushalya
Haiku Description: Fresh green of the Village combined with the scent of the temple
---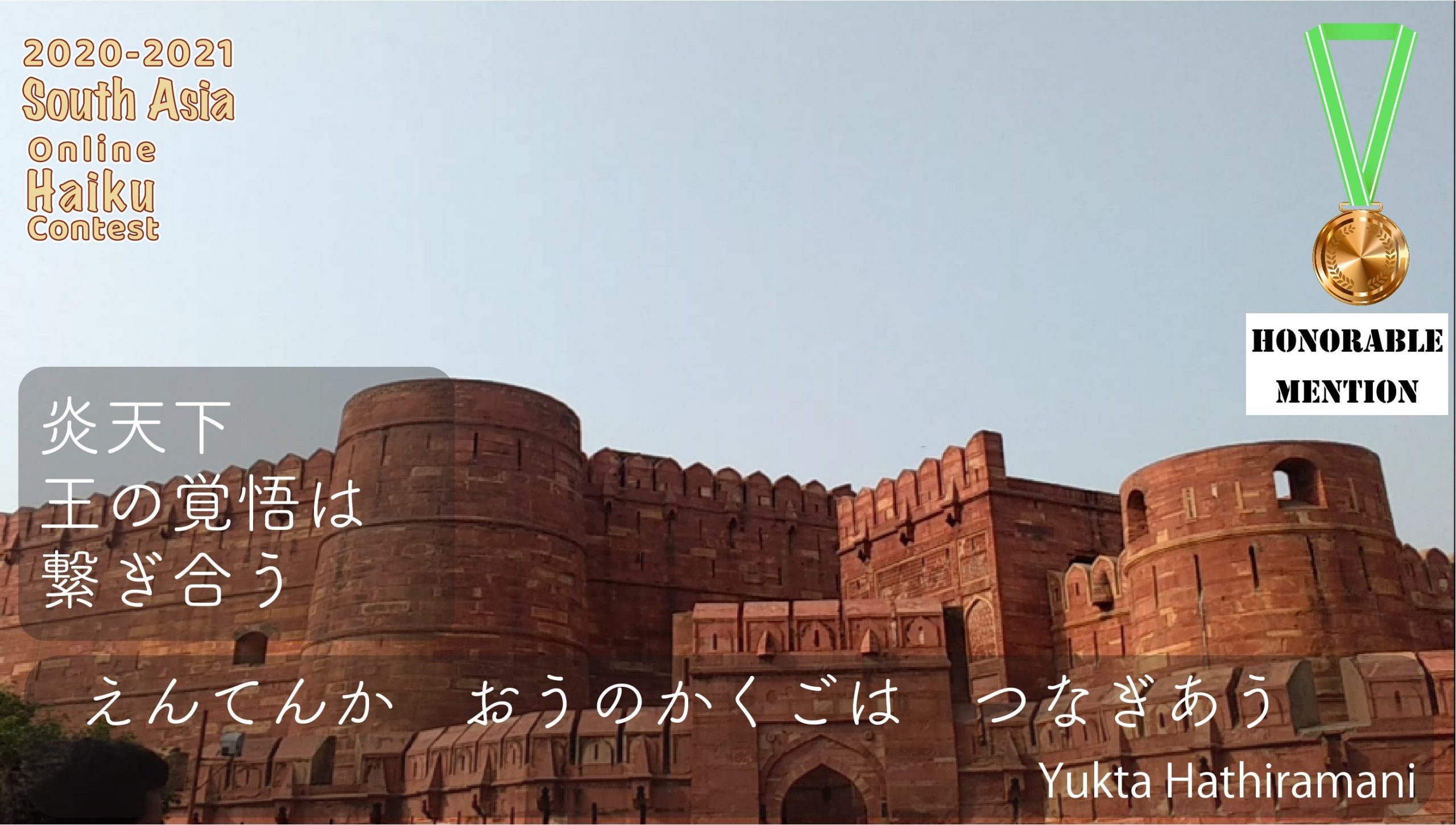 ★Honorable Mention (3) 佳作: : Yukta Hathiramani
Haiku Description: I visited the Agra Fort during the scorching heat of May. This huge structure reminds me of the blazing resolve and strength of the Kings who existed hundreds of years ago. It brings the pages of history alive and connects the past with the present.
---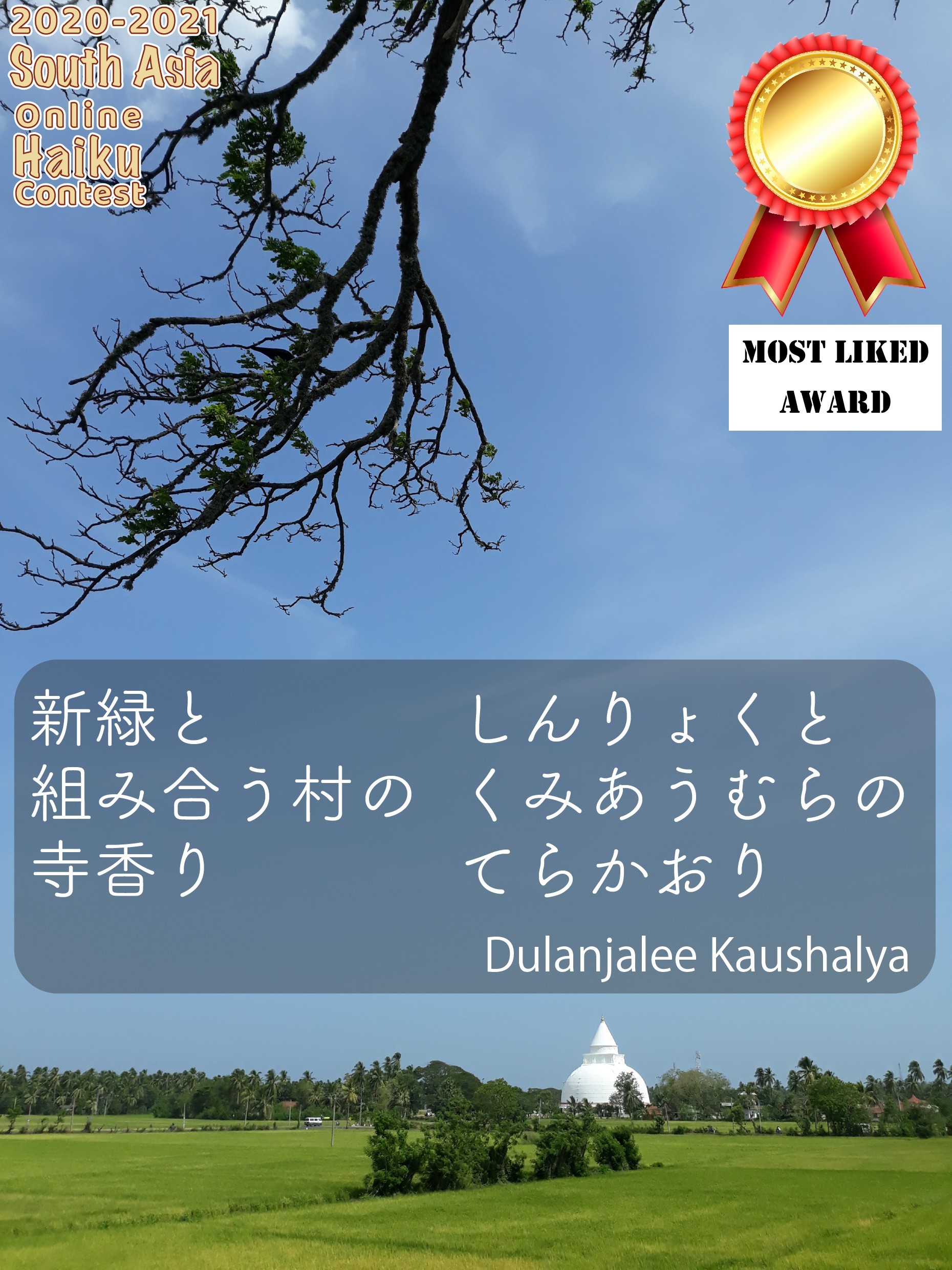 ★ Most Liked Award いいね賞: Dulanjalee Kaushalya
Haiku Description: Fresh green of the Village combined with the scent of the temple
Haiku Description: Fresh green of the Village combined with the scent of the temple
---