OPEN CALL FOR CURATORS FROM JAPAN  インドでの展覧会:日本人キュレーター募集
Devi Art Foundation in collaboration with The Japan Foundation, New Delhi invites exhibition proposals from curators in Japan. Proposals are expected to show an interest in working around Contemporary Art of South Asia and also engage with the existing in-house collection of the Devi Art Foundation.
資料提出やコミュニケーションは英語となりますが、本ページ下段に日本語でも情報を入れていますのでご参照ください。
THE DEADLINE IS EXTENDED!
Application Deadline : 6th November, 2016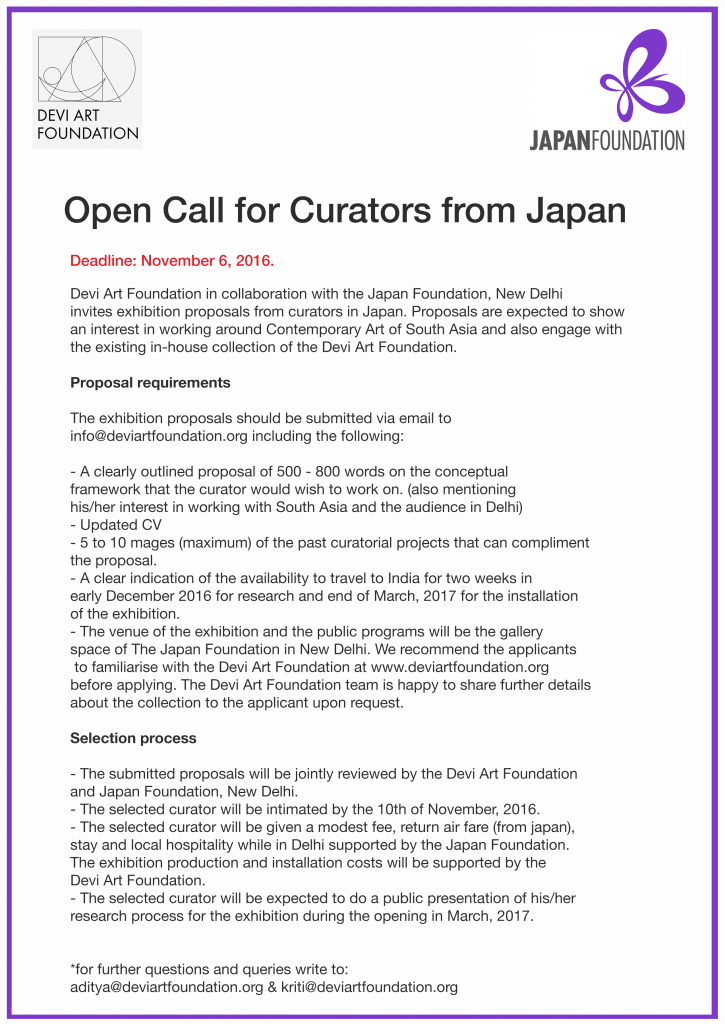 Sample Photos of The Japan Foundation, New Delhi Gallery
Floor Plan of The Japan Foundation, New Delhi Gallery
【インドでの展覧会:日本人キュレーター募集!】
この度、当センターでは、インドのデリー郊外グルガオンに位置するDevi Art Foundationとの共催にて、
同財団の所有するインド最大級の南アジアを中心とするアートコレクションを利用した、
国際交流基金ニューデリー日本文化センターでの、
日本人キュレーターによる展覧会を実施する運びとなりました。
つきましては、以下のとおり、日本人キュレーターによる企画を募集いたします。
1.募集要領
Devi Art Foundationのコレクションを利用した日本人キュレーターによる南アジア現代美術作品の展覧会企画。
審査により1名を決定。展覧会会期は2カ月程度を予定。必要提出については、上記に記載のとおりです。
Devi Art Foundationのコレクションについては、同財団ウェブサイト(www.deviartfoundation.org)ご参照、
もしくは、下記6.Devi Art Foundationチームへの問合せにより電子アーカイブ提供可能。
2.応募方法
Eメールにて展覧会企画資料(募集要項記載)を英文にて提出。提出先:  info@deviartfoundation.org
3.スケジュール
(1)応募締切:2016年11月6日(インド時間)
(2)審査により1名を決定(Devi Art FoundationおよびThe Japan Foundation, New Delhiによる)
(3)結果通知:11月10日までに選ばれた方への通知
その後、選ばれた場合、メールやSkype等での打ち合わせ等。
(4)事前リサーチ:2016年12月頃
(5)展示設営のための渡航(2017年3月頃、展覧会オープニングは3月末を予定)
4.支援内容
(1)事前リサーチ渡航(12月頃)および展示設営のための渡航(3月頃)については、
The Japan Foundation, New Delhiが旅費(国際航空券、滞在費、海外旅行保険、査証代)
および謝礼を支援します。
(2)展示にかかる制作費、設営費等はDevi Art Foundationが支援します。
5.その他
(1)Devi Art Foundationとのメール等での連絡や事前リサーチ、展示設営は全て英語で行なっていただきます。
(2)展覧会オープニングの際に一般向けの公開イベント(トークや発表)を予定しています。
6.問合せ
Devi Art Foundation
aditya@deviartfoundation.org および kriti@deviartfoundation.org