New Japanese Language Textbook Publication Event (May 26th)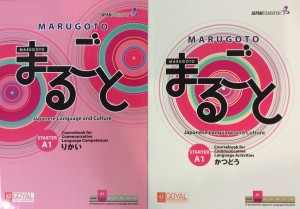 Thank you for your understanding and cooperation with the Japan Foundation projects.
The Japan Foundation has developed the Japanese textbook called "Marugoto Communicative language |
Competences" to spread Japanese Language all over the world. These textbooks are completely different from
the conventional Japanese learning method, which is mainly focus on grammar and sentence pattern,
and focus on communication in real working environment as well as daily life.
These textbooks were not available in India. However, thanks to the cooperation of Goyal &Co,
"Marugoto" are now published in India.
Purpose of this event is to make the opportunity for various people to know "Marugoto".
It would be grateful for not only those who are engaged in Japanese Language education but
also for those who are not engaged in it would participate in this event and deepen their
understanding of "Marugoto". The below is the detail of the event.
————————————————————————————————————————
〇Date:May 26th, 2017 (Fri) 16:00~18:00(Receptions will start at 15:30)
〇Location:The Japan Foundation, New Delhi
5-A Ring Road, Lajpat Nagar IV, New Delhi 110024, India
(5 minutes from Moolchand Metro Station)
〇The seating capacity:80 people
〇Fee:Free(We will give one sets of "Marugoto" for the all participants)
〇Main Audience: Those who are in charge of Japanese Language Training Program
〇Application: Registration required.
Kindly let us know your organization name and your name by May 20th, 2017 via the below email.
haruka.sano@jfindia.org.in (Haruka Sano)
————————————————————————————————————————-