Japanese Film Festival
Modern Japanese Women : finding the strength within
The Japan Foundation is please to present this film festival with the theme "Modern Japanese Women: Finding Strength Within" to celebrate the strength and courage of women in Japan and all over the world. Through this festival, we are striving to show how the women in Japan live today, growing from strenth to strength in a rapidly changing world.
Dates : 15th November, 2016 to 19th November, 2016 at 6:30 pm
There will be a talk and discussion on Modern women: Finding the Strength Within with Ms. Anandana Kapur, Film Maker, Author and Social Scientist on 19th November, 2016 from 5:30 pm
ENTRY IS FREE for the film festival.
Films
1. Sue, Mai & Sawa : Rightning the Girl Ship すーちゃん、まいちゃん、さわ子さん
Date – 15th November, 2016 (Tuesday)
Director- MINORIKAWA OSAWA
Time – 6:30 pm
Duration – 106 mins
Short Synopsis – A heartwarming drama based on Masuda Miri's comic strips series. It offers a warm and tender depiction of the lives of three women in their thirties struggling with their futures, love lives and more.
© 2012 "Sue, Mai & Sawa" Production Committee
2. Seventh Code セブンスコード
Date – 16th November, 2016 (Wednesday)
Director – KUROSAWA Kiyoshi
Time – 6:30 pm
Duration – 60 mins
Short Synopsis – A suspense drama adapted from a music video for a song by Maeda atsuko. Directed by Kuroswa Kiyoshi, who is held in high regard internationally for his works.
© 2013 AKS
3. Round Trip Heart ロマンス
Date – 17th November, 2016 (Thursday)
Director – TANADA Yuki
Time – 6:30 pm
Duration – 97 mins
Short Synopsis – Road movoie about the romance car limited express train operated by Odakyu Railways between Shinjuku and Hakone.
© 2015 TOEI VIDEO
4. My Little Sweet Pea 麦子さんと
Date – 18th November, 2016 (Friday)
Director- YOSHIDA Keisuke
Time – 6:30 pm
Duration – 95 mins
Short Synopsis – An abundantly humorous depiction of anime obsessed girl with dreams of becoming a voice actor who is forced to grow up when her estranged mother died.
© 2013 "My Little Sweet Pea" Production Committee
5. Au revoir l' été ほとりの朔子
Date – 19th November, 2016
Director – FUKADA Koji
Time – 6:30 pm
Duration – 125 mins
Short Synopsis- A coming of age drama that won both the Montglofiere d'or (Best Film Award) and Prix du Jury Juene (Young Jury Awarad) at the Nantes Three Continents Festival in 2013.
© 2013 sakuko film partners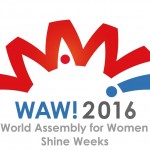 This film festival is also a side event of the World Assembly for Women (WAW!) to be held in Tokyo in December, 2016, where leading figures around the world will discuss and make proposals about various issues surrounding women in the field of Science and Technology, Leadership, Work-life Management, Health, and Peace and Security.