The Japan Foundation, New Delhi organised a five-day workshop for Japanese language interpreters who have ambitions to be more professional and to work in the field of arts and culture. This seminar focused on providing the learners with an opportunity to learn the basic skills of Japanese-English interpretation, especially for arts and cultural events.
Workshop
Date: Monday, 6th July to Friday, 10th July, 2015 (five days)
Time: 10:00 a.m. to 1:00 p.m.
Venue: The Japan Foundation, New Delhi
Lecturer: Ms. Miyako Yoshida (Professional Interpreter from Japan)
Eligibility: Individuals
– who has experience of interpretation,
– who holds JLPT N1, and
– who can attend all days of the workshop.
Fees: For learning materials
Expected participants: Those who cannot answer, 'yes', to the following questions with confidence.
– Do you know how to interpret what they say either too much nor too little?
– Do you know what to do when you don't understand what they say?
– Do you know how to prepare for the commission work?
– Do you know how to use polite Japanese appropriately?
Based on the applications and interviews, we selected ten participants.
Talk 'The Essence of Being a Professional Interpreter'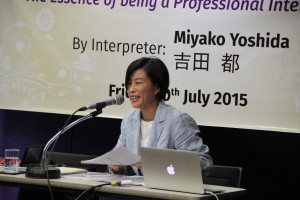 Date: Friday, 10th July, 2015
Time: 6:30p.m.
Venue: The Japan Foundation, New Delhi
Speaker: Miyako Yoshida (Japanese-English interpreter)
Entry Free, open to all, and no registration required.
Miyako Yoshida (Japanese-English interpreter)
As an undergraduate student, Miyako became a registered interpreter of the International Hospitality and Conference Service Association. Since then, for more than 20 years, she has been working as a freelance interpreter for the projects and conferences of the Ministry of Foreign Affairs and other ministries, the House of Representatives and the House of Councillors of the National Diet of Japan, the Japan Foundation, foreign embassies in Japan, the Foreign Press Center in Japan, local authorities, offices of the members of the national parliament, economic organisations, trade unions, museums, galleries and non-profit organisations. As a school student, Miyako passed STEP 1st grade. Also, before graduating the university, she passed more than fifteen assays and exams including the 1st grade of the the cultural section of the Interpreter Skills Test and the 1st grade of TEP test. Having graduated from the university, she worked with an institute for interpreters for four years as an instructor.