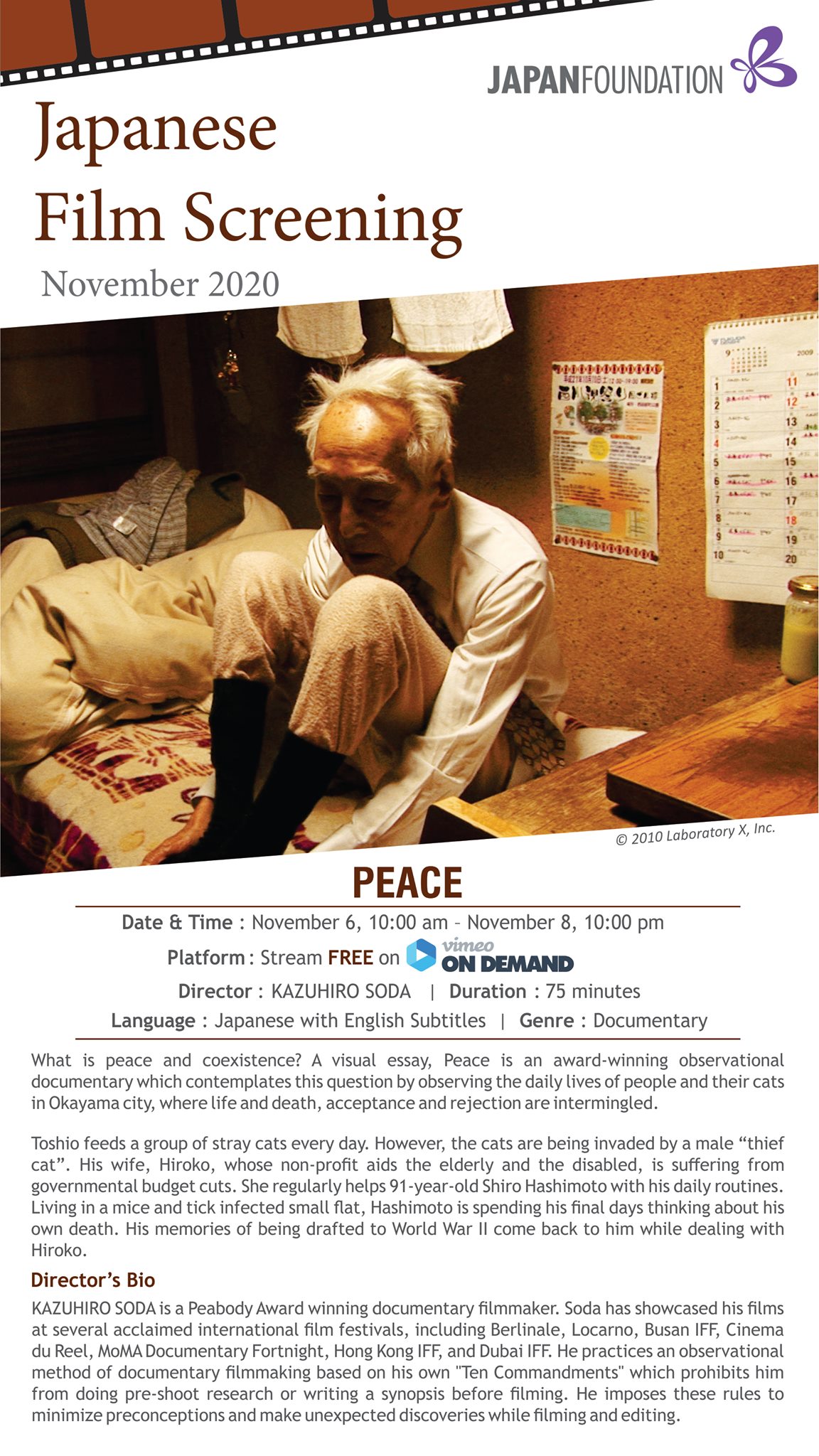 ————————————————————————————————————————————————————————————–
JFND returns with another critically acclaimed documentary for its monthly screening in November 2020.
FREE RENTAL & STREAM with PROMO CODE: JFSTREAM
FILM: PEACE
Platform: Stream on JFND's channel on Vimeo OTT
Date: November 6 – 8, 2020
Check out the trailer and details below: https://vimeo.com/showcase/jfndstreams
SYNOPSIS: What is peace and coexistence? A visual essay, Peace is an award-winning observational documentary which contemplates this question by observing the daily lives of people and their cats in Okayama city, where life and death, acceptance and rejection are intermingled.
Toshio feeds a group of stray cats every day. However, the cats are being invaded by a male "thief cat". His wife, Hiroko, whose non-profit aids the elderly and the disabled, is suffering from governmental budget cuts. She regularly helps 91-year-old Shiro Hashimoto with his daily routines. Living in a mice and tick infected small flat, Hashimoto is spending his final days thinking about his own death. His memories of being drafted to World War II come back to him while dealing with Hiroko.
Director's Bio: KAZUHIRO SODA is a Peabody Award winning documentary filmmaker. Soda has showcased his films at several acclaimed international film festivals, including Berlinale, Locarno, Busan IFF, Cinema du Reel, MoMA Documentary Fortnight, Hong Kong IFF, and Dubai IFF.
————————————————————————————————————————————————————–