The Japan Foundation, New Delhi in collaboration with Delhi Public Library, Sarojini Nagar and Origami Oritai club, organised Film screening and Origami workshop for Children. This was a closed and entry-free event, for only the students of the school selected by the library. The students of the 7th and the 8th grade of Sarvodaya Kanya Vidyalaya No.1 and Khalsa Middle School, Sarojini Nagar, New Delhi, attended the event.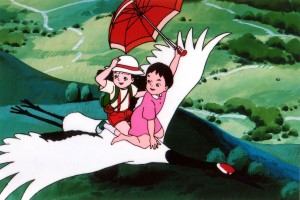 Photo Credit: © MushiProduction, Co. Ltd.
1. 'On A Paper Crane' (27 minutes (Hindi) / Colour / Animated)
'On a Paper Crane' is a gently told, animated story of Sadako, the girl, who was told that, if she could make 1,000 paper cranes, she would survive the leukaemia, which she contracted as a result of the atomic bombing of Hiroshima in 1945. One day, Tomoko Sato travels to the Hiroshima Peace Memorial Museum by herself for a class assignment, being eager to complete her task. After learning the horrifying details of what took place many years ago in Hiroshima, Tomoko finds herself in front of a beautiful statue that turns into a little girl named Sadako, who soon becomes a best friend with Tomoko, and shares her tragic story. The film presents children with a positive view as to the possibility of achieving a peaceful and cooperative world.
Before the DVD film screening, Ms. Tomoko Kikuchi, the translator of the film, briefly explained about the film with introduction of the tragedies of the atomic bombing of Hiroshima and Nagasaki. After the film screening, the translator Ms. Kikuchi asked the students how they felt about the story and one of the students said, 'we should not fight each other'. This represents that the student(s) understand the message of the film and we hope the young generation will take over the message to avoid conflicts and/or war in future. Also, many students asked various questions in regard to the film that caused another questions to introduce more different aspects of Japanese culture, which made the event more fruitful and students seemed to have received deep impact from this program.
2. 'Origami Workshop' by Origami Oritai
To leave the students more impressive image and the message of the film, we organised an origami workshop after the film screening, because origami is a key item in the film. Origami is a traditional Japanese art or technique of folding paper into forms of animals, plants, and various things. It is often done just for fun, but is a great way to enhance concentration and coordination capabilities. For the event, three members of an origami group, Origami Oritai India, cooperated with us, and the students enjoyed origami.
Members of Origami Oriai India teaching origami to the students


Closing speech by Ms. Sudha Mukherjee, Library Information Officer, D P L and Mr. Doi, our director