Japan Foundation, New Delhi invites you to attend the film screening of Where I belong, directed by Azuma Shinji on this Contemporary Friday!
Entry to the event is based on registration.
Film Details:
Movie Name: Where I Belong (2017)
Director: Azuma Shinji
Genre: Drama
Runtime: 108 minutes
Synopsis: Abandoned by his parents as a child, Shoto Izumi (Kento Hayashi) has grown up a thief and mugger preying upon defenseless women and the elderly. After inadvertently stabbing a victim, he escapes into the remote hills of Miyazaki Prefecture where he assists an injured elderly woman, Suma (Etsuko Ichihara). He plans to rob her of all her money but is embraced by the warmth of the townspeople who mistake him for Suma's grandson. Shoto somehow gets recruited into helping with mountain foraging work and festival preparations, and gradually, finds his hardened heart undergoing a change. He encounters Michi (Mina Fujii), a local girl who has returned home after 10 years who seems to stoke in him further remorse of his criminal past. Seeking redemption and a "do over" in life, Shota finds himself facing a critical decision.
A drama based on a novel by bestselling crime fiction writer Asa Nonami, Where I Belong is a beautifully meditative story set in a picturesque remote village in south Japan, exploring themes of human sin and redemption.
Event Details:
Date: November 24th, 2023
Time: 6:30 pm
Venue: Sakura Hall, The Japan Foundation
Address: A13, Green Park, New Delhi.
Registration Deadline: Registration closes at 10 pm, November 22nd (Wednesday).
Registration Link:  Click Here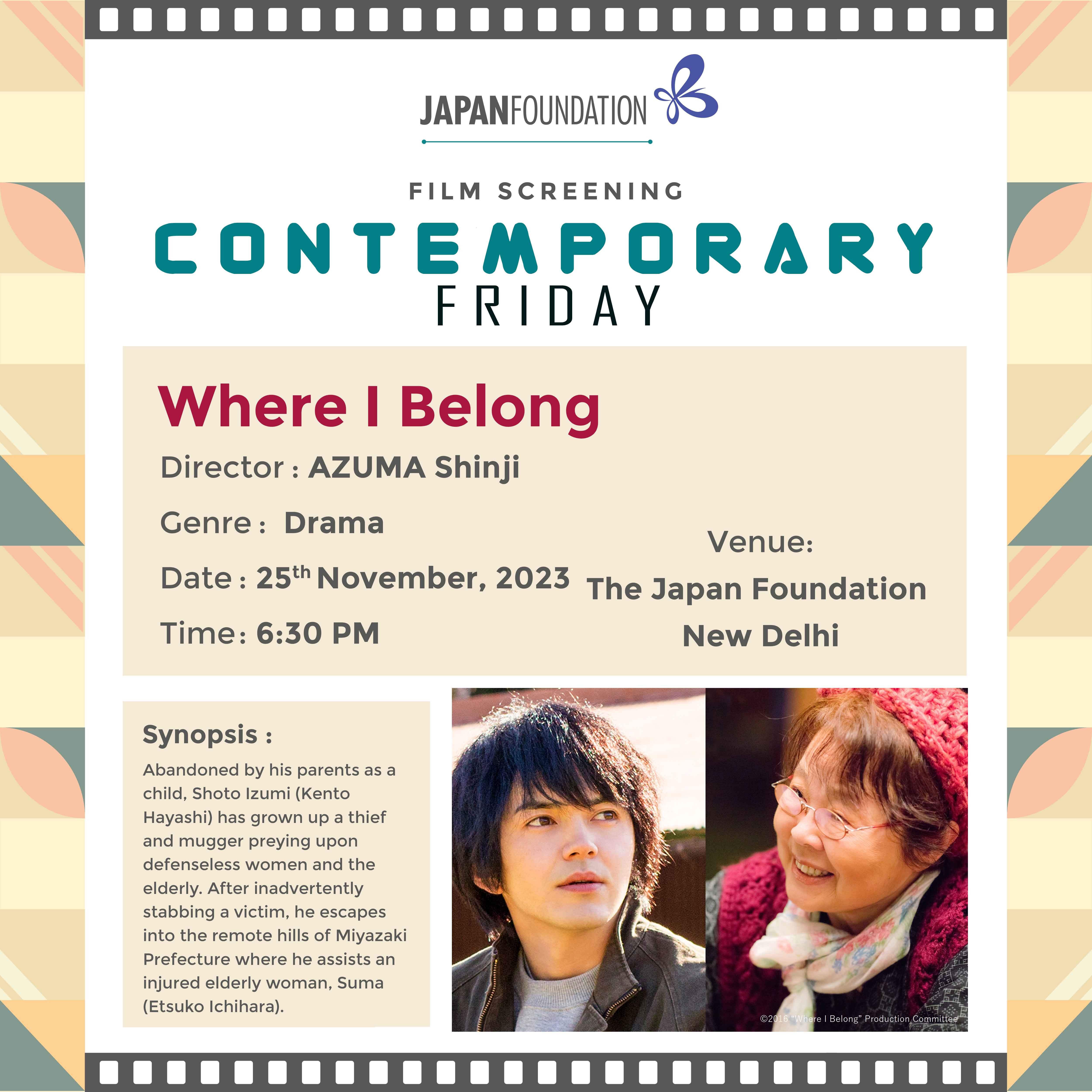 Stills: